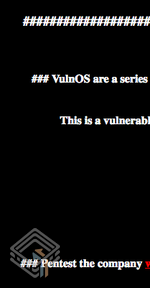 VulnOS are a series of vulnerable operating systems packed as virtual images to enhance penetration testing skills
Smaller, less chaotic !
As time is not always on my side, It took a long time to create another VulnOS. But I like creating them. The image is build with VBOX. Unpack the file and add it to your virtualisation software.
Your assignment is to pentest a company website, get root of the system and read the final flag
NOTE : current keyboard preferences is BE "pentesting is a wide concept"
If you have questions, feel free to contact me on [email protected] dot com Shout out to the Vulnhub Testing team!
Hope you enjoy.