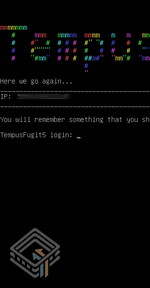 Tempus Fugit is a Latin phrase that roughly translated as "time flies".
This is an hard, probably insane, real life box, created by @4nqr34z and @theart42.
As in the former Tempus Fugits, #5 the idea is still to create something "out of the ordinary".
Need any hints? Feel free to contact us on Twitter: @tfhints
DHCP-Client.
Tested and works both on Virtualbox and vmware
Health warning:
May cause loss of hair, severe self doubt and enlarged imposter syndrome
Story:
Recovered from the security disaster that was Tempus Fugit 4, our friends at Mofo company returned to the warm bosom of Linux. They have developed a sensational Internet application and have protected it with all sorts of fancy tooling. Deploying new technology and cool security features, they are confident that they can now withstand the worst of the worst. But, being hacked so many times, may the real danger be lurking from within?? Hack TF5 and find out for yourself!, @theart42 and @4nqr34z