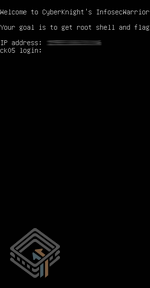 This VM is given as challenge 3 in InfoSecWarrior CTF 2020.
Official website : https://www.infosecwarrior.com/
This box is dedicated to my mentors (you will find there names in the box itself)
If you face any error or needed help ping me on Twitter CyberKnight00
Or ping them after finding their names.
During the CTF event, this box contains a Loot box (zip file) consist of download link of the next Challenge and super_flag.txt.
Goal : You have to gain highest privileges and collect only 2 flags (user flag and root flag). loot box is not available in this VM.
The WordPress developer configured the machine to work internally. But due to some miss-configuration wordpress is exposed to outside world. Use your skills and get the root flag.
BTW someone already hacked the box and placed his backdoor find it. It will help you.